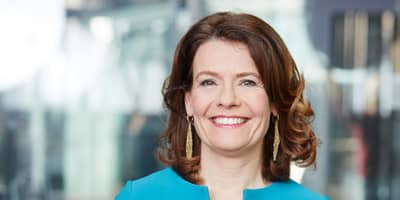 Upon nomination by the Supervisory Board, Merel van Vroonhoven has been reappointed as Chair of the Dutch Authority for the Financial Markets (AFM) for a period of 4 years. The reappointment enters into effect on 1 April 2018. Merel van Vroonhoven has been Chair of the AFM since 1 April 2014.
Paul Rosenmöller, Chair of the Supervisory Board: "The AFM has made important steps under Merel's leadership towards streamlining and strengthening the organisation and towards renewing conduct-of-business supervision in the financial sector. During the past years she has also successfully strived to promote international cooperation in order to better protect consumers and investors. The digitisation of financial services increasingly demands a cross-border response from supervisors and only increases the importance of the transformation into a data-driven supervisory authority. The Supervisory Board is therefore pleased that Merel continues to work for the AFM."
Paul Rosenmöller: The Supervisory Board is therefore pleased that Merel continues to work for the AFM
New board structure
The developments in the financial sector have accelerated of late. In addition, a trend towards harmonisation and centralisation of supervision is visible in Europe. The AFM plays an important role in this process. With these circumstances in mind, it was decided to expand the current board under the articles from 3 directors to 4. This was already announced in the AFM Agenda 2018.
Within the new board composition, the Chair will continue to focus on the long-term transformation of the AFM into a demonstrable pioneering supervisory authority. It will also have more scope for looking after Dutch interests internationally.
The expansion of the board combined with the outstanding vacancy means that 2 new directors will be recruited. The AFM expects that it will be able to present the new management team in the short term.
Journalists can contact Mark Woldberg, AFM Press Officer, on 0031 (0)20 797 2452 or mark.woldberg@afm.nl.