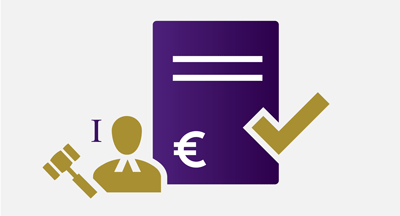 On 31 December 2013, the Netherlands Authority for the Financial Markets (AFM) imposed an administrative fine of €2 million on Your Finance B.V., which has its registered office in Berkel en Rodenrijs. The fine was imposed because Your Finance offered pay day loans from 25 May 2011 to 21 February 2012 without holding the required licence. That constitutes an infringement of the Financial Supervision Act (Section 2:60, first subsection, Wft).
States of the legal proceedings

Fine imposed
Objection
Appeal
Further appeal
Submitted
Decision rendered
Submitted
Decisiion rendered
Submitted
Decision rendered

31-12-2013
06-01-2015
16-02-2015
25-03-2015
03-12-2015
Consumers were able to borrow money for a short period of time against 0% interest via the website www.voorschotje.nl, which is owned by Your Finance. Consumers did not receive the standard of loan of €150 until three to five working days after approval of their application, however. Consumers were required to use the possibility of an urgent transfer if they wanted to receive the loan immediately. The costs for an urgent transfer were €25 per loan of €150. In addition, Your Finance charged high costs per loan of €150 if payment was not made on time.
Costs that were charged
Although the AFM informed Your Finance of the licence obligation shortly after the infringement began, Your Finance did not cease its illegal activities until after the AFM imposed an order on pain of a penalty payment. During the period in which Your Finance performed its illegal operations, it charged €25 for an urgent transfer, while a licensed credit provider was only allowed to charge €1.29 for an urgent transfer in the case of a short-term loan of €150. This corresponds to an annual percentage rate of 289.68%, while 16% was permitted.
A licensed credit provider was allowed by law to charge 7 cents a day in the case of late repayment of a loan of €150. In cases of late payment, Your Finance immediately charged €17.50, which is 261 times the amount allowed by law, and another €17.50 in the case of 9 days late payment. Over a period of seven weeks, Your Finance charged €408,225 in costs for urgent transfers alone. The infringement did not continue for 7 but for 39 weeks.
A licence offers protection
A licence provides additional protection to consumers. Before the AFM grants a licence, it checks, inter alia, whether a company complies with the requirements of properness, expertise and integrity. Moreover, a company that holds a licence must comply with the so-called continuous rules of conduct. These rules concern, among other things, the obligation to take great care in the provision of services to consumers. It also includes the maximum costs a credit provider is allowed to charge.
Interested parties can submit the AFM's judgment contained in the decision to the courts for review.
If you have questions or complaints, please contact the AFM's Financial Markets Information Line: 0800-5400 540 (free of charge).