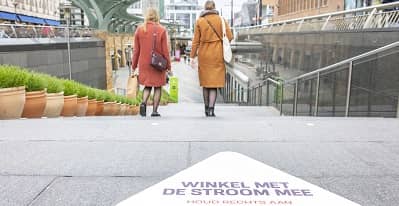 The 2020 annual report from the Dutch Authority for the Financial Markets (AFM) looks back on a turbulent year. While the economy collapsed due to the pandemic, the stock market was highly volatile. Many consumers turned to the stock market in the coronavirus era. The long-expected Brexit passed off smoothly. The year 2020 also saw the new pensions system taking further shape, with the AFM continuing to stress that scheme members need to be better protected.
Volatile stock market and an overheating housing market
Social life has come virtually to a standstill since mid-March 2020. The coronavirus pandemic caused an unprecedented slump. There was also a significant impact on the financial markets, but these proved to be robust and quickly recovered. Economic recovery is now on the horizon, but at this point the economy is still fragile.
'The stock markets are breaking records and appear to have lost touch with the real economy, which should finally recover from a severe blow. We do not feel entirely comfortable with the situation,' says AFM chair Laura van Geest. 'The same applies to the overheating housing market. We note that first-time buyers in particular are using all means possible to acquire a home. Since there is no additional housing supply, this is pushing prices even higher. The drive to help first-time buyers with all kinds of arrangements to obtain more finance may appear to be helpful, but in reality the effects of this are not so positive. The problems facing first-time buyers are only becoming greater, and current homeowners are cashing in. We continue to warn of the risks here.'
More and more people are investing, one in five households are now investors
Interest in investing took off in 2020, especially among young people. AN AFM study shows that the number of investors increased by 11% to 1.6 million households. This is driven mainly by the low interest on savings and the desire to build up capital. In itself, this is a positive development. Although index investing is still popular among young people, there is a group of investors who are taking on more and more risk and believe that they are better-than-average investors. In a stock market that continues to break one record after another despite the coronavirus crisis, this is cause for the AFM to be particularly alert. Last year, we urged brokers to implement a more thorough customer acceptance process and additional measures to ensure that execution-only investors do not unintentionally invest using credit or invest in complex products.
Concerns regarding protection of pension scheme members
The AFM contributed to the formulation of the Pensions Agreement in 2020. Our main focus was on the importance of scheme member protection during and after the transition to the new pensions system. We also made a study of variable pension benefit products last year, which include many features of the new system. Scheme members will bear more risk and will have to make more decisions. We have observed that the pension providers do not have sufficient insight into the risks that scheme members are willing and able to take. Their guidance on the available choices also needs to be improved.
Massive shift in trading due to Brexit passes off smoothly
The massive shift of European securities trading to Amsterdam at the beginning of this year passed off smoothly, partly because market parties such as the AFM were well prepared. The AFM is now responsible for much of the supervision of this trading. We also monitor that retail and professional investors in the Netherlands are not disadvantaged as a result of Brexit.
In its annual report, the AFM describes its activities and the results achieved in 2020, including its financial statements. We have also issued a more visual annual overview of 2020 in which we feature interviews with various stakeholders.